Posts Tagged 'racing'
The "car" and "racing" genre is heavily catered for in the Flash gaming space. But it's also large enough that there are companies dedicated just to producing these sorts of games. MojoCreatives is one such company and in this short interview I caught up with their CEO Michael Ojo about this unique space in the gaming spectrum:

What got you into car games?

"I got into the whole online gaming gig back in 2007. It was just something I stumbled upon really. I had enjoyed playing Flash games online and figured why not make my own? I'm a total car / auto fanatic. And racing games are my favourite genre, so it made sense that I would try to make a game like this. I'm not a developer myself. I create the game idea, concepts and design style. We then use either our in-house coders or work with other studios such as IriySoft. My first game was called Crazy Mustang and was finished in December 2008. It was extremely popular with plays now in the tens of millions. Since then we've released another 11 car games."

How do monetise your games?

"All our games are free to play but carry ads. We release them on our own sites (like ArcadeLot.com) and of course we'll upload to the popular portals like Newgrounds and Kongregate. That alone helps the game get a decent exposure. And after this we'll reach out to the top gaming portal owners. This is sometimes a daunting (and time consuming) process, but if your game is good it's worth it in the long run. Right now we are gearing up to release at least one new game every month and some will be accompanied by mobile versions."

What goes into making a car game?

I've talked before about the kids virtual world called WebbliWorld that myself and the Aardman Digital team built. Well it's been an extremely busy 4th quarter for us as we've been releasing hundreds of in-world updates, as well as producing a really excellent racing game called WebbliRacers:

The game has a dual purpose, and two versions exist. One to be released "into the wild" to entice new visitors to the world. And a full version that lives within WebbliWorld which has all 4 tracks and a comprehensive (and fun!) achievement system built into it. Do well and you'll unlock special items of clothing to wear. Do very well and you can unlock items to decorate your pod (house) with. Do really well and you'll get awarded special trophies to show-off to your peers 🙂

The game was developed by Julian Scott (of Drift Runners fame) with art and animation by the Aardman Digital team. It's a really beautiful game, and takes the unique and wakky style of WebbliWorld and uses it to full effect as these screen shots show:

Track 1 – The cute little traffic cones blink and change colour when hit

Track 2 – Take the hidden routes for extra coins

Track 3 – Oh I do like to be beside the sea side!

Track 4 – Looks so yummy be careful not to lick your monitor!

I urge you to try it 🙂 You'll need an account on WebbliWorld, but that's a 30 second process and is 100% free. Once you are in-world click the map icon on the menu and look for the arcade machine on the left-hand side. There you'll find the "WebbliWhizzers" zone, which is the in-world leaderboard and place to play WebbliRacers.

The game has so many nice little touches, from the skid marks, puffs of smoke, jumps, extreme driving bonuses and excellent animation. Lots of what looks like 3D animation (spinning coins, rotating traffic cones) were in fact all hand-animated by the ever talented Robin Davey directly in Flash.

The 4th track is my personal favourite. Originally it was going to be a volcano level, with lava and tikki statues and the like. But it was rightly decided this was a little too dull for WebbliWorld, so the idea of a "chocolate mountain" was born. So the whole track winds around caramel, marshamllow, chocolate and sticky oozing syrup volcanoes. When you drive through the goo you leave a beautiful messy trail behind:

Click here to visit WebbliWorld – I look forward to seeing you on the leaderboard 🙂 and if you see "WebbliMunro" in world, come over and say hi!
Hire Us
All about Photon Storm and our
HTML5 game development services

Recent Posts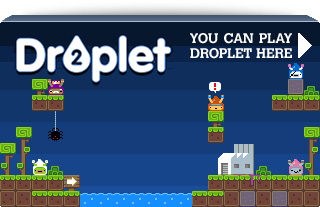 Filter our Content