The past few days have been a whirlwind and a constant high. I remember reading a comment on twitter that said something like "being a developer is like being a manic depressive. Extreme highs and extreme lows". The more I think about this, the more I agree with it! The lows of the crunch periods, and the highs of release. Finally having your game finished is a superb feeling (one I wish I could bottle to take a dose of during crunch!)
But even the high of release couldn't have prepared me for the way Cat Astro Phi hit the interwebs. Quite honestly I'm used to taking a beating when it comes to reviews on NewGrounds. I just don't make the sort of games that appeal over there, and I'm cool with that. But I really did hope that Cat Astro Phi would find favour with them (it had after-all with the site owner). They're a notoriously tough crowd to please. But I can safely say that the reviews have blown me away. 10 after 10 after 10, and even those that pointed out the games flaws (for it certainly has some) did so graciously. Sure there were a few trolls, and some who just don't dig the Gameboy vibe. But the overwhelming majority voted in their thousands, and reviewed in their hundreds, with positive feedback.
I'm not ashamed to admit that I read every one of them. I find it easy to laugh-off the zero scores and inane comments, but they are far and few between. What I didn't expect was to read all these comments from people who had truly loved playing the game. It made me happy that the 4-colour exploits of Jonesy and the spaceman had in turn made them happy. It's a hippy-good vibe.
We also seem to have wormed our way onto a few notable sites as well. Front-paged on 1up.com, covered well by IndieGames.com (even if they didn't really dig it, the people who commented did!), a superb write-up over at Barts News and Screaming Falcon did a great review of the soundtrack! which was also heavily mentioned on other chip music sites. Someone even posted walk-thrus on YouTube within hours.
The Gameboy aspect of it seems to have really hit a note with a lot of people, taking them back to "better days". Or perhaps just simpler days. When they could bum around all morning playing games, and not have to worry about kids, work, mortgages or deadlines. I can certainly relate to that 🙂
I'll be keeping tabs on where-else this little game travels.
Posted on December 12th 2010 at 2:11 am by Rich.
View more posts in Games. Follow responses via the RSS 2.0 feed.
---
Make yourself heard
Hire Us
All about Photon Storm and our
HTML5 game development services

Recent Posts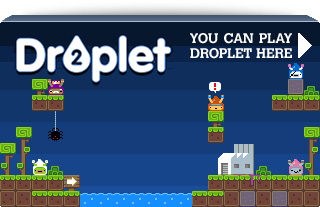 Filter our Content